Royal castles Neuschwanstein and Linderhof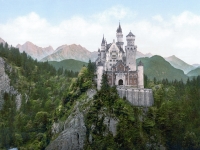 During our full day sightseeing tours to Neuschwanstein and Linderhof castles, the experienced driverguides and tourguides of
Munich Tours
will show you the most important sightseeing attractions and royal castles in southern Bavaria. Depending on the exact number of participants, this tour is available at any time of the year by bus, minibus or car. Below on this page, you will find an example of what a sightseeing tour with guided tours through the royal Bavarian castles Neuschwanstein and Linderhof could look like. Should you wish to modify this tour program, it is always possible to replace single elements of the sightseeing tour by others and to include more or less sightseeing activities into the tour program. If you have any questions about our tours to Neuschwanstein castle and Linderhof castle or if you wish to book a guided sightseeing tour in English, please write to us at !
Program example for a sightseeing tour to Neuschwanstein and Linderhof
Starting from Munich, we travel on the highway until lake Starnberg. After a short glance upon the lake, we will enjoy one of the most picturesque landscapes in Bavaria with century-old farms and buildings while travelling to the small village of Hohenschwangau. From here, we take a carriage transfer to the "Marienbrücke" bridge, from where we have a splendid view over both Hohenschwangau and Neuschwanstein castles. After a short pause, we will join an English speaking guided tour through Neuschwanstein castle before having lunch either in the Neuschwanstein castle restaurant or in a traditional bavarian restaurant in Hohenschwangau village. After lunch, we continue past lake Plansee (in Tyrol, Austria) towards Linderhof castle, which we also visit with an English speaking guided tour. Through the characteristic village of Oberammergau with its painted facades (short photo and shopping stop) and past the interesting Ettal abbey we drive back to Munich.
Comments regarding sightseeing tours to Neuschwanstein and Linderhof
Our sightseeing tours to Neuschwanstein and Linderhof castles can be adapted to your personal desires and requirements. For instance, it would be possible to include a guided tour through Hohenschwangau castle or Ettal abbey in our sightseeing tour program. And of course our Neuschwanstein sightseeing tours and Linderhof excursions can also be started from different locations than Munich, for example:
sightseeing tours from Innsbruck
.
Further information about Munich Tours and our sightseeing program