Fullday excursion Herrenchiemsee castle and lake Chiemsee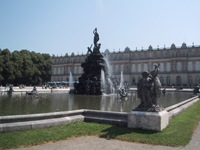 The full day excursion "Chiemsee lake and Herrenchiemsee castle" offered by
Munich Tours
is made for individual travellers and groups wishing to make the best of a day in Bavaria without touching the bavarian capital Munich or any of the larger cities in its surroundings. This way, it can be booked as a complementary excursion to previous Munich city tours or integrated in a central European sightseeing tour program on the way from Munich to Innsbruck or from Munich to Salzburg. Sightseeing tours to Chiemsee lake and Herrenchiemsee castle can be arranged anytime for both individual travellers and travel parties up to 60 persons. The sightseeing tour program described below gives you an idea about how a full day sightseeing excursion to lake Chiemsee from Munich could look like; the exact itinerary of all our sightseeing tours being established individually according to your specific preferences and requests. If you have any questions concerning sightseeing tours to and from Munich or if you wish to use our tourguide service for a sightseeing day in Bavaria, please contact us anytime at !
Program example for sightseeing tours to lake Chiemsee
Starting from Munich we take the highway towards Salzburg and arrive at lake Chiemsee shortly before lunchtime. You can choose between having lunch on the lake promenade before boarding a ship to Herrenchiemsee island or crossing lake Chiemsee first and then have lunch at Herrenchiemsee. After lunch hovewer, we will join a guided tour through Herrenchiemsee castle which has been built for king Ludwig II of Bavaria (mad king Ludwig), clearly inspired by Versailles castle in France. After the castle guided tour, we continue our lake cruise by ship to Frauenchiemsee island and visit the old nuns monastery with its Roman church. This visit to Frauenchiemsee island is especially nice during springtime when flowers are blossoming. Crossing lake Chiemsee one last time, we go back to Prien from where your driverguide will take you back to Munich.
Comments regarding our tours to Chiemsee and Herrenchiemsee
Depending upon how much time you want to spend for your fullday sightseeing tour to Chiemsee lake and Herrenchiemsee castle, the sightseeing tour can be done in many different ways. The team of
Munich Tours
would be glad to answer your questions about panorama sightseeing tours through Bavaria and to Herrenchiemsee castle and Chiemsee lake and is looking forward to reading from you!
Further information about Munich Tours and our sightseeing program