Munich city sightseeing tour by bus or minibus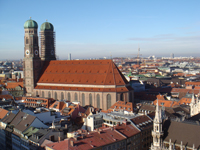 Through
Munich Tours
you can book city sightseeing tours to Munich for large and small parties and individual travellers, depending on the size of your group by coach, minibus or bus. Further down on this page, you will find a description of a possible tour program which we call "panorama city tour". However, it is also possible to modify the program of the sightseeing city tour according to your personal interests, you will find more and different proposals for Munich sightseeing tours on our partner website
Munich Guides
. Should you be interested in booking a city sightseeing tour of Munich, please contact us at !
Program of our "Panorama sightseeing tour to Munich"
Meeting points for our city sightseeing tours of Munich can be any hotel or restaurant in Munich or any other location of your choice within Munich. After having picked you up, your Munich tour guide will show you the most interesting sights and monuments of Munich. First, we will drive through the old town district and see attractions like the Old and New Art Gallery (Alte Pinakothek and Neue Pinakothek), the National Theatre and the Royal Residence, the Marienplatz Square with the Old and New town Hall and the "Mariensäule" Column, the church of Saint Peter and the famous Viktualienmarkt Square with its fine food stands. Afterwards, we will continue to Nymphenburg castle (summer residence of the kings of Bavaria) and have a walk through its gardens. Finally, having arrived at the Olympiapark, we will ascend to the panoramic platform of the Olympia Tower and enjoy a splendid panoramic view over the city of Munich.
Comments concerning the "Munich panorama tour"
Our panorama city sightseeing tour to Munich does neither include a walking tour to the inner city of Munich nor a guided tour inside Nymphenburg castle. Thus, you can book it separately to get a first impression of Munich or maybe decide to do it in the morning and combine it with a detailed city walk or museum tour in the afternoon, resulting in a very complete and beautiful Munich discovery experience. However, if you prefer saving still more time, it is also possible to shorten the driving time of the panorama sightseeing tour and to replace the cancelled parts by a city walk or a guided tour to Nymphenburg castle museum. We are open to your ideas and are looking forward to your message at !
Further information about Munich Tours and our sightseeing program