Sightseeing tour to Berchtesgaden / Eagle's Nest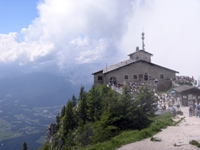 The full day sightseeing tour to Berchtesgaden and its surroundings is specifically designed for groups and individual travellers wishing to discover the scenery of the German Alps in combination with a historical approach of Germany's national socialist past. The sightseeing excursion can be booked at any given time and can be organized with either car, minibus or bus. The sightseeing tour program described below is just an example of how a sightseeing tour to Berchtesgaden with a visit to the Eagle's Nest could look like, the itinerary can easily be adapted to your individual wishes and ideas. If you have questions about our Bavaria sightseeing tours or if you wish to book a guide or driverguide for a full day excursion to the surroundings of Munich, please contact us at !
Program example for a fullday sightseeing tour to Berchtesgaden
Leaving Munich very early, we will take the highway towards Salzburg until Bad Reichenhall. From there, it is not very far to the area of Berchtesgaden with its beautiful alpine landscape, nested between the Austrian provinces of Salzburg and Tyrol. Depending upon your personal wishes, we can either start our sightseeing tour with a panoramic cruise on lake Königsee and enjoy the spectacular panorama of the German Alps from the small island of St. Bartholomä or take a ride up to the Eagle's Nest, Hitler's summer residence high above the mountains. After lunch, you have the choice between a visit to the Obersalzberg exhibition on national socialist Germany including a visit to the Führer bunker or a panoramic tour through the German Alps by car, minibus or coach with many occasions for sightseeing and photo stops. At the end of the day, your driverguide or tourguide will take you back to Munich.
Comments regarding our Berchtesgaden sightseeing tours
: Full day sightseeing excursions from Munich to Berchtesgaden can be composed of four distinct elements: a ship cruise on lake Königsee, a ride to the Eagle's Nest, a visit to Obersalzburg national socialist museum and a panoramic tour through the German Alps. The team of
Munich Tours
is ready to organize Berchtesgaden sightseeing tours according to your personal interests and wishes. Of course, our full day excursions to Berchtesgaden can also be booked from different places than Munich, for example starting from Salzburg with
Salzburg tourguides
or from Tyrol with
Tyrolean tourguides
.
Further information about Munich Tours and our sightseeing program