Lake Constance sightseeing tours with Bregenz city tours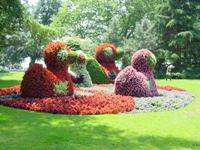 Lake Constance is Central Europe's third largest lake after lake Balaton and lake Geneva, offering a broad variety of possible tourism and sightseeing activities. From Munich, it can be reached in about two hours on the highway, depending on whether you travel by bus, minibus or car. The staff of
Munich Tours
can help you arrange panorama sightseeing tours to lake Constance from Munich and from other locations in Bavaria, Tyrol and Vorarlberg at any time of the year, both for groups and individual travellers. The exact itinerary of your lake Constance sightseeing tours depends on your individual requirements and interests and can be modified in many ways to suit your needs. If you have questions concerning lake Constance sightseeing tours or if you wish to book panoramic tours to lake Constance, you can reach us anytime at !
Program example for a lake Constance sightseeing excursion
Leaving Munich early in the morning, we reach the city of Bregenz (Vorarlberg, Austria) after a highway ride of about two hours. Greeted by our
Vorarlberg tourguide
, we will visit Bregenz during a city sightseeing tour by bus, minibus or car, including a visit to the stage of the Bregenz lake festival appearing in the James Bond film "Quantum of Solace". Getting back on our bus, minibus or car, we will drive along lake Constance past Lindau to Friedrichshafen, where we will arrive at lunchtime. Boarding a lake cruise ship, we will have lunch onboard during a marvellous panoramic cruise on lake Constance before arriving at the "flower island" of Mainau. Joining an English guided tour through the gardens of Mainau, we will discover the history and beauties of lake Constance and participate in a wine degustation of local wines. Crossing lake Constance one last time, we reach Meersburg, from where your driver will take you back to Munich directly.
Comments regarding lake Constance panorama tours
: Our full day sightseeing excursions to lake Constance are also available from locations other than Munich, for example from Innsbruck, Augsburg or Stuttgart. Additionnally,
Austria tour operator
City Tours is also ready to arrange sightseeing tours for groups and individual travellers residing directly in Vorarlberg or next to lake Constance.
Further information about Munich Tours and our sightseeing program