Bavarian folklore dinnershow evenings in Munich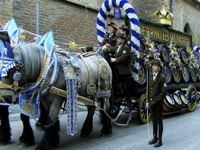 If you are looking for an interesting yet entertaining evening program in Munich, the team of
Munich Tours
strongly recommends a visit to a bavarian folklore dinnershow evening in Munich. The team of
Munich Tours
will gladly help you to make reservations for the special bavarian folklore dinnershows at the Hofbräuhaus pub in Munich. Should you have any questions about the program of folklore dinnershows in Munich or should you wish to acquire tickets for Munich dinnershows, please write to !
Program of bavarian folklore dinnershows in Munich
The "Hofbräuhaus München" is a typical bavarian pub with a century-old tradition. Existing since 1589, it is famous not only for its special bavarian "Hofbräu" beer, but also for its close connection with bavarian folk music and traditional bavarian dance shows. The folklore dinnershow evenings at the Hofbräuhaus pub give you the chance to discover traditional bavarian folklore performances and to be immerged into bavarian folk art at its best. While enjoying an abundant buffet and traditional Hofbräu beer, you will listen to polka and yodel melodies from Bavaria and Austria and see Schuhplattler dance shows and Alphorn players from Munich. At the end of the evening, you may try the Schuhplattler dance yourselves and sing famous melodies together with the folklore dinnershow artists.
Further information about Munich Tours and our sightseeing program